In order to choose a mission, go to your OCUS home page, and click on "Find an assignment". Here you will find the assignment map: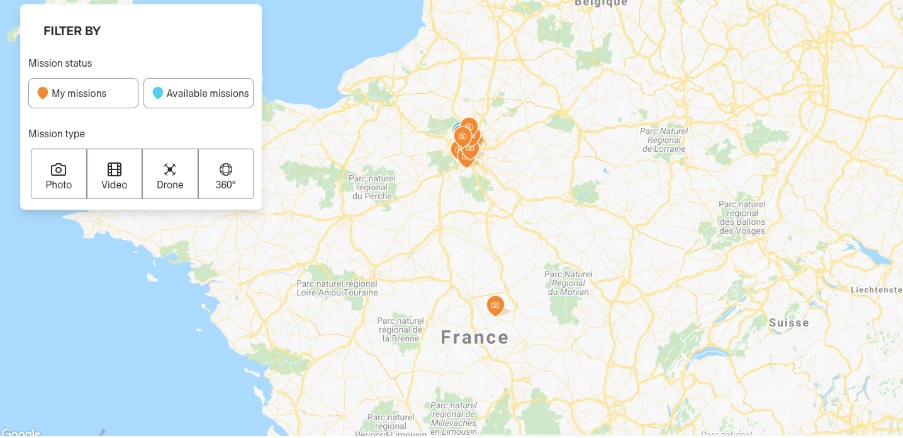 You are free to choose any job on the map, provided that:
You can communicate in the customer's language.
You agree to contact the customer within 48 hours and to complete the job as quickly as possible.
You must demonstrate prior experience in this area of expertise, and this must be made visible to our various departments (example: in your portfolio).
You can access the assignment's details by clicking on it (as shown below) to check these prerequisites. You are then free to add it to your basket and validate it whenever you want.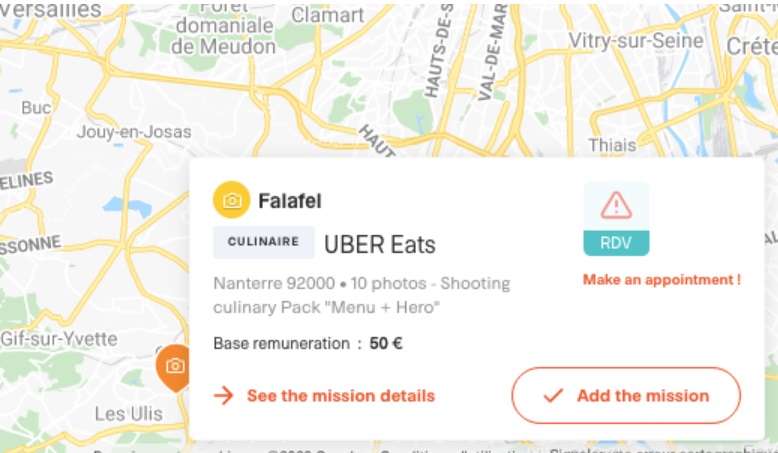 Note: You can select a maximum of 10 assignments per day (8 for the US) and you can have a maximum of 30 ongoing assignments at a time (not scheduled or blocked).
As soon as an assignment is validated by OCUS, it does not count as an "ongoing" one anymore. Then it allows you to take a new job on the map. We apply this limit for several reasons :
Delays: too many assignments matched to the same person will delay the booking of appointments, the completion of the photo session, and the moment the client will receive the pictures. These delays are important to our clients.
Fairness: one of our goals is to be fair with all the members of our community. This means we are committed to giving the same chances and opportunities to photographers when it comes to work.
To choose an assignment, click on the tab and then click on "Add the mission":
Then you have to accept the assignment, by clicking on "Validate selection":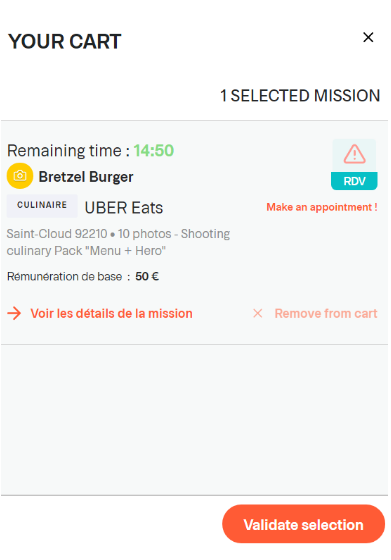 Once the assignment has been accepted, it is essential that you study the guidelines carefully and that you make sure you have the required equipment.
We also remind you that the payment of the job already covers travel costs, no additional compensation is included.
/!\ Please don't take assignments if you're not gonna be active for a few days/weeks!
When and how can I withdraw from an assignment?
We are aware that something unexpected can happen to anyone without warning.
This is why it is possible for you to withdraw from an assignment with a degree of flexibility. However, a withdrawal should remain an exception and should be notified to us at least 48 hours before the date of the assignment.
If it is a case of force majeure (listed below) that does not allow you to carry out the assignment, we will, of course, accept the request within the 48 hours time limit:
Illness
A personal or family commitment that cannot be postponed
A last-minute incident related to your equipment
Inability to go to the assignment location due to an exceptional event (COVID, strikes, etc.)
Please note that an assignment that was canceled by you will have consequences for you and for the client:
A client who suffers too many last-minute cancellations will turn to other solutions, meaning there will be fewer assignments so less income available for the entire community.
The client will have blocked out a period of time, sometimes his/her entire day, unnecessarily.
In most cases, the client will also have spent time and money on preparing for the assignment (additional preparations, extra staff, etc.)
Finally, note that too many cancellations within 48 hours before the date of an assignment, i.e. at the very last minute, are likely to impact your rating and, for repeated cases, lead to your OCUS account being blocked.
If you wish to withdraw from an assignment in line with the deadline indicated (48 hours or more before the date of an assignment), it is possible to do so directly from your personal area, on the tab of the relevant assignment.
How to unassign me?
1- Click on "Make changes or ask for help" then Click on "Unassign me"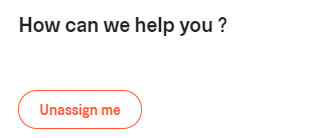 Note that if you are removed from a photoshoot, it will automatically go on the map again. If it is a refusal, please choose the smart message "the on-site contact refused the photoshoot" and then remove yourself.