To register on our platform and join our Community of Image Creators, go HERE. Select "Image Creators" :
Fill in your details as indicated on the form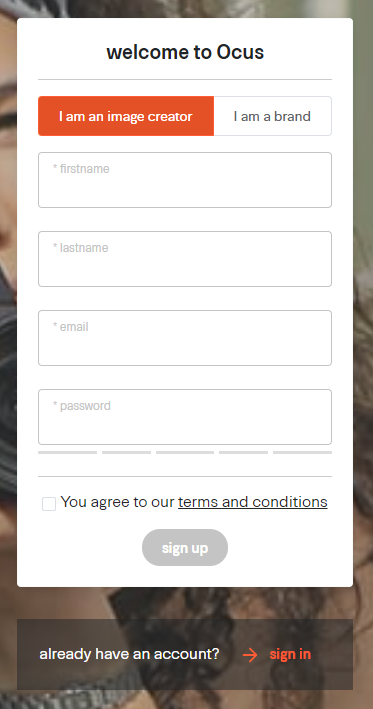 Click "

Sign up

" to submit your login details

Enter your full address in the "

Address

" field

Enter your phone number. Have your phone nearby! You will receive a verification code. Enter the code you received by SMS and validate it

Select all the Skills and Specialties that apply to you from the available options

Enter all the languages you speak in the "

Your languages

" section. Search for each language individually and make your selection from the list of results

Search for your equipment by brand name and specs in the "

Your Equipment

" section and select your equipment from the list! You must type each piece of equipment you have individually

Search for your lenses in the "

Your Lenses

" section and select your lenses from the list!

Tell us about all the accessories you have by filling out the "

Your Accessories

" section

Enter your website in the "

Portfolio

" section. If you have multiple sites, go ahead and add them. A new line is automatically created as soon as you start typing
Note: The fields are automatically saved, so no need to look for a "Save button".
Tell us all about yourself in as much detail as you want in the "

Bio

" section

When you're done, click "

Submit"
Once you have registered, our Community team will validate your application and will notify you by email within a maximum of 1 day. Once your profile is validated you must send us some legal documents to definitively validate your registration.
Click "

Add your legal documents

" to complete your profile registration with the legal supporting documents

Select your status as a freelancer or independent entrepreneur from the list. Once you have filled all the fields, click "

Submit

" and you've completed the sign-up process!
Once your documents are checked and verified by the OCUS team you can begin accepting missions, so welcome to the OCUS Community!!! :)