You should not perform any post-production work on your photos. Upload your photos in the form of JPG files only. In exceptional cases, we may ask you for RAW files, so we recommend that you keep the RAW versions until the assignment is approved.
You have to send your media before midnight the day of the photoshoot! If this deadline is not respected, you may get a lower rating.
When you are on your OCUS platform, the "Media upload" tab allows you to manage the delivery of images. You can also deliver the pictures directly from the assignment page.
Here are the steps to take to deliver your photos:
Go to the "Media upload" tab. If you are delivering the photos from the assignment page, click directly on the "Media upload" button.
From the tab, select the assignment for which you want to upload the files by clicking on the arrow at the top right (see image below).

Import your photos via one of three options: by clicking on the boxes, on the "Upload file" option or by dragging your files from your computer folder and dropping them into the upload area. The information at the top right gives you details about the progress of sending your files and the number of photos sent.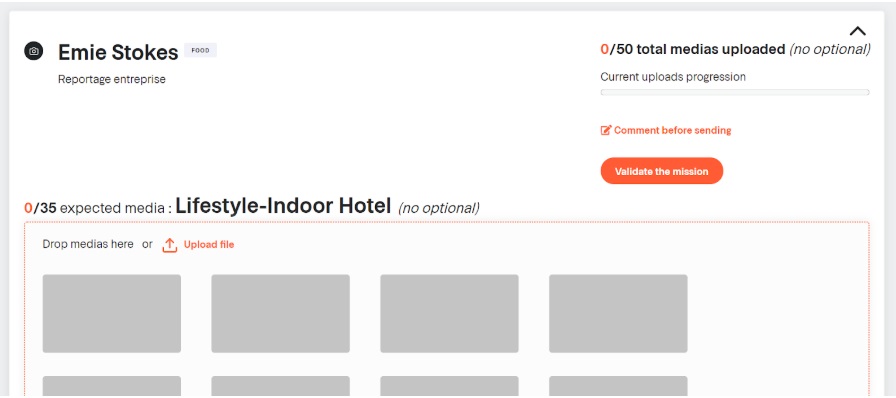 Also, the "Comment before sending" option allows you, if necessary, to add more details when you send your photos: please be sure to add all the necessary information (difficult assignment conditions, non-compliance with the guidelines, etc.) that might be useful to us in approving your work.
Once all your photos are uploaded and you have left your comments, you can click on "Confirm assignment".
Do I send the photos to the client?
The customer who places an order through OCUS is not always the one you meet at the photoshoot.
Once your assignment is done, all you need to do is upload your images directly to the OCUS platform.
The customer will then be able to access the photos. You are not allowed to send the pictures to the customer or the on-site contact.