Once a new assignment has been matched to you, you must
Read the guidelines first.
Tick "I accept the guidelines" to let OCUS know that you have read and understood them.
Make an appointment no later than 48h after accepting the assignment (you will have access to the on-site contact's information at the bottom of the page). To ensure the best experience possible, we invite you to schedule an appointment with the on-site contact within 14 days.
The on-site contact is not available in this time range? Select a date in agreement with her/him and leave a comment. Keep in mind that to limit overlapped or missed assignments, we have facilitated the way you book your appointments. Time slots are blocked according to the assignment duration. For example – if you have a photo shoot at 3 pm, you can book another one at 4:30 pm giving enough time to work your magic and make it to the next location.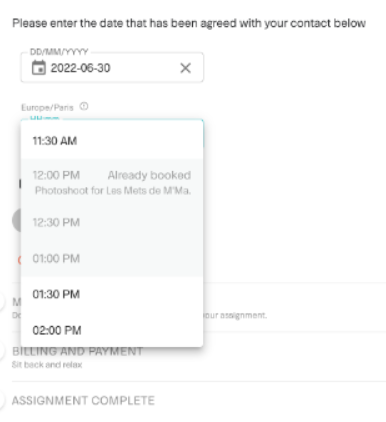 Once you have contacted the on-site contact, you must update the assignment's page with the appointment date.
If you have difficulties arranging the appointment, as the on-site contact:
is unreachable after at least 5 attempts by phone and emails
refused the appointment
could not provide a suitable date
You must let OCUS know by clicking on "Ask for help" and selecting the corresponding situation.
Follow the instructions detailed in this article dedicated to such a situation. OCUS clients are expecting the media ASAP, so they need to know why the assignment is being delayed and how they can help, especially if it is the on-site contact's responsibility.
Please do not forget to confirm the appointment date and time with the on-site contact a few hours before the appointment.
4. Once the appointment is confirmed, don't forget to add your appointments on Google Agenda!
Click on the "export to calendar" button

2. Then validate the appointment on Google Agenda. On the appointment page, you will find all the necessary information for your assignment, including the ID, the link to the assignment, and a direct link to the guidelines.

Be careful, if the appointment is canceled or postponed, you will have to update your Google calendar or click once again on the "export to calendar" button. This button will be available only after the appointment has been confirmed.